This warning just came in from one of my newsletters today, a trusted source, so I've taken their advice and
temporarily
disabled Java...
Here's how to disable Java...

http://www.java.com/en/download/help/di ... rowser.xml
I'll post any updates, once
Java
gives the
'ALL CLEAR'...
WARNING
New Java Exploit - Disable Java NOW!
I'm beginning to sound like a broken record, but there was another Java exploit discovered and this one is the worst kind of security hole. It's one that allows a hacker to install malware or viruses without your knowledge simply by visiting a website. The exploit has been confirmed by Bitdefender, a popular anti-virus company, as being actively used by hackers on the internet to compromise computer systems.
The really dangerous part is it appears to affect all installations of Java and there is no known way to stop it outside of disabling or uninstalling Java. Oracle, the makers of Java, are aware of the exploit and are doubtlessly working on a fix, but no ETA or information has been released.
The easiest and most secure way to disable Java is to follow the instructions provided by Oracle by clicking here. You can re-enable Java after Oracle patches Java and you download an updated version. Disabling Java may cause certain websites to perform differently as Java will not be available to them so keep that in mind if you experience any unusual performance.
-Tim
It's all over the Internet...

More information on the Java Threat:

http://www.allvoices.com/contributed-ne ... -explained

http://www.macrumors.com/2013/01/11/app ... ty-threat/

http://threatpost.com/en_us/blogs/nasty ... -it-011013

http://www.theglobeandmail.com/technolo ... le7234545/
Even more recent:

http://news.yahoo.com/oracle-updates-ja ... ector.html
More if you choose to
temporarily uninstal Oracle's Java:

http://nakedsecurity.sophos.com/how-to- ... -explorer/
Particularly handy if you opt to uninstall Java completely:
"You can confirm that Java is no longer installed by visiting

http://java.com
. Click "Do I have Java?"
Click verify and confirm that it says "No working Java was detected on your system."
This is what you'll see...
Click on
"Do I have Java"
then click on the
Verify Java version
button that
appears
(as shown below...)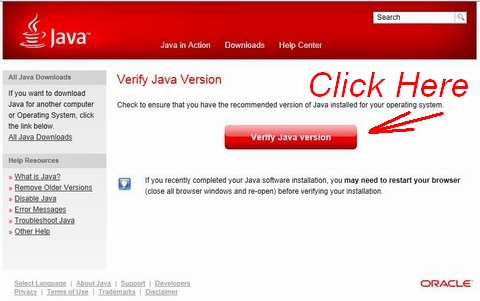 If you've successfully
uninstalled Java completely
, this is what you'll see...
DON'T HIT THE DOWNLOAD 'Download Java Now' BUTTON
as that will
simply reinstall Java...!!!
Bear in mind tha literally
BILLIONS
of websites use
Java
, so hopefully
Oracle
will
'get all their sh!t in the same sock'
pretty quickly, so you can reinstall it again...

It probably wouldn't hurt to do a
FULL VIRUS SCAN
on your PC/
compter after you've done all that...
I'll endeavour to keep you posted...

_________________

Rick Pengilly
WEBMASTER
Ex-CPOMTH3
R42630
13th MOBI Intake
July'62 to July'74
HMAS Nirimba - HMAS Melbourne - HMAS Cerberus - HMAS Tarangau - HMAS Lonsdale - HMAS Tarangau - HMAS Nirimba - HMAS Brisbane