WELCOME

FAQ
Search

Memberlist
Usergroups
Register
Profile
Log into check your private messages
Login

Congratulations, you've found our new website...!

On the 3rd of November, 2003, two members of the 13th MOBI Intake realised a long held vision to create a unique website, with an on-line forum for ALL ex-Naval Artificer Apprentices, (MOBI's/ Muppets), Phasies, Mechanicians, Direct Entry Tradespeople, etc., along with all the Support Staff, Instructors, Officers, Ship's Company and 'Friends'.
In fact its where anyone who ever 'did time' at HMAS Nirimba, better known to us as R.A.N.A.T.E., from its creation in 1956, until its demise following the graduation of the last intake in November 1993, could gather to renew old acquaintances, create new ones, swap 'warries', reminisce, plan reunions, keep informed and generally enjoy the comradeship and sense of community that was truly unique amongst the skilled hands of the
ROYAL AUSTRALIAN NAVY
Since its inception we have been slowly building up this website, culminating with our upgrade to the latest phpBB3 software and launching it on the 8th of July 2013. As members, you are able to touch base with old friends, share your memories, view the historic photos of Nirimba in the Galleries, upload your own photos from your reunions and get-togethers, communicate via our PM (personal message) link and select personalised avatars (logos) for your 'posts'. So why not register now, jump in and check it out ...
Please take full advantage of the many features on this site as it was created for your enjoyment...
Enjoy your visit...... Rick and Ned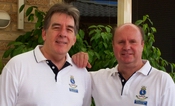 WEBMASTERS
Warrick "Rick" Pengilly, ex-CPOMTH3 - Hippy Chippy
John "Ned" Kelly, ex-WOMTH- Chippy Ned