---
Sad to hear of CMDR James Hume's passing...
Up there with Knobby Clark as one of the legends of RANATE...

During his tenure as Executive Officer of HMAS Nirimba, fom 1960 to 1963, we had a love-hate relationship,
as a typical MOBI always in the shit for a myriad of trivial transgressions,

I hated regularly fronting up to him,


he seemed to love dishing out punishment to me...!

(In retrospect, I probably deserved most of it...! It certainly didn't marr me for life...)


In 2006, at the 50th Reunion of HMAS Nirimba, our paths crossed again, when he attended a dinner for the
13th MOBI Intake, and I did manage to get a photo taken of he and I shaking hands in front of a model of
The MOBI Yacht 'Nirimba', while the real thing was parked on the lawn outside at the Southern Cross Yacht
Club on the shores of Lake Burley Griffin in Canberra...

I think I said something like, "Excuse me CMDR Hume, you probably won't remember me, but can I ask to have
your photo taken with me in front of the model of the yacht...?"

To which he replied: "I remember very well who you are...!!!"
Still scary even 44 years later...!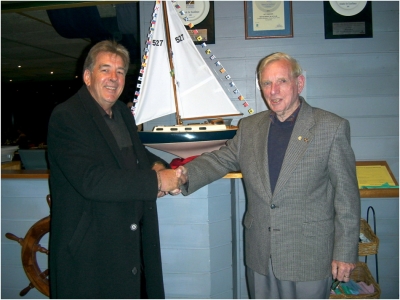 Some time ago someone wrote a bio on his career, which was very impressive, I'll see if I can dig that up too...


I can still see him in his black patent leather leggings, like some cavalry officer, certainly looked the part...




His obituary in The Canberra Times doesn't really do him justice...

"Commander James Hume RAN (Retd) Died on 30.11.2011, aged 87 years. Remembered for a lifetime of service to
his country and community by many friends and shipmates.Remembered with love and pride by wife Suzette, sons
David and Graeme, daughters Patricia and Janet, daughter-in-law Kim Summers, son-in-law Phil Emerson, grandchildren
Tane, Susannah, Malcolm, Emily and Caelan, and brother-in-law Steve. Privately cremated"



Rest on your oars Big Jim, you've done your duty well...